Beats Against Colonialism: A Tribe Called Red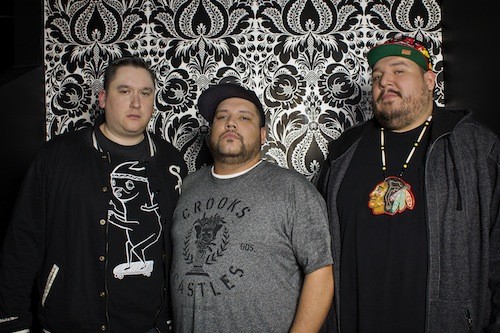 The buzz around Ottawa's electronic dance music group A Tribe Called Red has spread like wildfire. With sold-out shows as far apart as Austin, Texas, and Brighton, England, the three young men behind A Tribe Called Red are winning fans with each engagement while also opening the door for a much needed conversation about Indigenous politics and cultural appropriation.
While audiences overseas may not pick up on the political and cultural motivations behind the music, people are paying attention.
"It's definitely different," says Ian Campeau (DJ NDN), who is accompanied by group members Dan General (DJ Shub) and Bear Witness. "We're not Indigenous here, so a lot of people don't necessarily understand what we're trying to do. But a lot of people dig the music. It's always our first goal, to get people to dance."
Getting people to dance has never really been a problem for A Tribe Called Red. Ever since they got together in 2008 to found their Electric Pow Wow club night in Ottawa, people have been dancing up a storm to their tracks.
"We started this group to throw parties," explains Bear Witness. "We wanted to throw parties for our community. As it turned out, that was a very political thing. To take over and Indigenize the club space is a really political act. All these political aspects to A Tribe Called Red were just a part of that, not something that we could ignore or deny."
Indeed, with the release of their sophomore album, Nation II Nation, the political aspects, which had always been present in A Tribe Called Red, were consciously pushed even further to the forefront. The inner jacket of the new LP prominently features images of each member's Certificate of Indian Status alongside the words: "After what happened in the last hundred years, the simple fact we are here today is a political statement. As First Nations people everything we do is political."
"That quote is just about that long history of not having control of our own image," explains Bear Witness, "and now coming into a time where we're able to take that control. Not just taking control of our own image, but really being able to show people who we are."
Yet the group's political messaging is not easily separated from its music — at least for some fans. One recent example of this is the group's request to fans to stop showing up to shows in "redface."
According to Campeau, fans regularly wear war paint and headdresses to their performances. In response, group members have taken to Twitter to educate their fan base: "Non-Natives that come to our shows, we need to talk," read a tweet from last month, "please stop wearing headdresses and war paint — it's insulting." While the group has sought to claim a place for Indigenous culture within popular music, it may take some time before the difficult conversations around cultural appropriation actually have an impact.
The music itself on Nation II Nation is hard to ignore. Propulsive beats, both classic electronic and those traditional drumming samples, drive each track forward as electronic music pulses and traditional singing situates the music as part traditional, and completely contemporary. Clearly, it was something that electronic music fans, inside and out of Indigenous communities, have been waiting for.
"It was sort of a case of the right place at the right time," says Wab Kinew, Director of Indigenous Inclusion at the University of Winnipeg. "A lot of people have tried to do what they're doing before, which is to mix electronic music and traditional music. But nobody really did it well. They're the first group that actually did it and it was dope."
With a Polaris Prize nomination for their eponymous debut album, and the critical and fan reception that **Nation II Nation(( is currently enjoying, A Tribe Called Red have been able to contribute to the much needed conversation around Indigenous rights and cultural appropriation that Idle No More has brought to light.
"Even in the name itself [Nation II Nation], and in A Tribe Called Red itself, I'm Ojibway, Anishinaabe," explains Campeau. "The other two guys, Dan and Bear are both Cayuga. Our languages alone are as different as English and Chinese. Historically, we're enemies. So together, in forming this group, that's a nation-to-nation relationship. Then you go a little more macro, and go federally, then you've got a nation-to-nation relationship from the settler nations to the First Nations, and how that relationship needs to start happening. That conversation needs to start happening."
While some sections of the mainstream media were outright dismissive of Idle No More, it proved impossible for the media to ignore the movement. With the movement gaining national attention last year, that conversation is indeed beginning to happen — whether the federal government or certain sections of Canadian society wants it to or not. With protests, marches, flash mob round-dances, and hunger strikes appearing from every direction within Indigenous Canada, the disconnect between the federal government's policies and its responsibilities to Aboriginal people in Canada seems to have hit a breaking point.
"Our civil rights movement has been happening since the early 1960s," says Campeau. "It just so happens that with Idle No More we're able to connect and come together really quickly with the help of social media and having iPhones now. We have the power, with social media, to shame oppressive governments globally, and have nations outside of Canada take notice."
Kinew agrees that social media has been hugely important to the Idle No More movement and the more broad discussion here in Canada around treaty and Aboriginal rights: "I think probably the first thing [social media] changed was the discussion within the Indigenous community. It connected a lot of people who previously were apolitical and not really engaged and got them thinking about federal policy, or got them thinking about the situation within which they found themselves."
In producing a record as explicitly political like Nation II Nation, A Tribe Called Red is moving the conversation from social media and the dance floor to the homes of their new fans, in Canada and abroad. They are drawing attention to the injustices Indigenous people have suffered — and continue to suffer — as a result of federal policy and a society founded on the principles of colonialism. At the same time, they are challenging the views that many non- Indigenous people erroneously hold, and are often fed by the media. By producing their work the way they are, unabashedly contemporary and traditional at the same time, A Tribe Called Red are undeniably bringing these conversations about policy, culture and Indigenous identity to a fresh audience who are keen to engage with it.
Sheldon Birnie is a freelance writer and editor living in Winnipeg.
This article appeared in the September/October 2013 issue of Canadian Dimension (Networked Dissent).