Guaidó is gone, but we shouldn't forget Canada's interference in Venezuela
Ottawa's support for Guaidó was vocal, unwavering, and rooted in a decades-long alliance with right-wing forces in Venezuela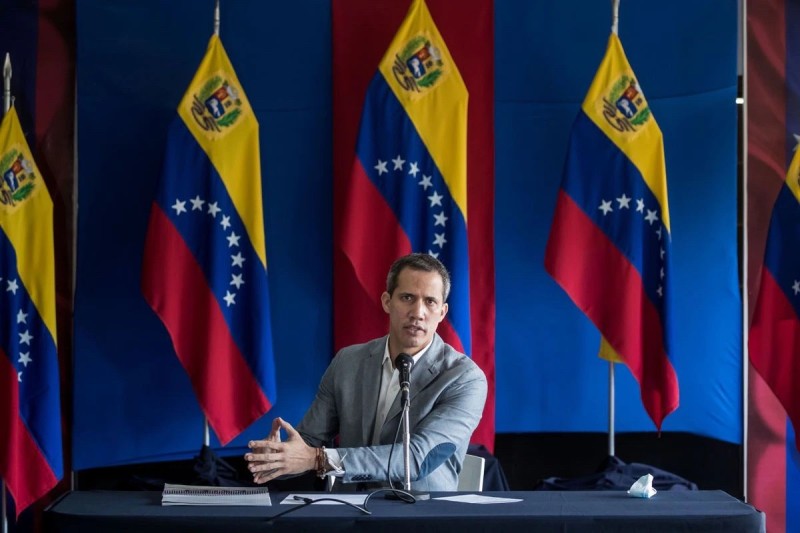 The Juan Guaidó farce has, finally, come to an end.
The hardline Venezuelan opposition, which has long sought the overthrow of the Bolivarian Revolution even during its most popular phases, thought Guaidó was their ticket to power. Their anti-government work having failed time and time again, right-wing forces needed a new approach after years of unsuccessful attempts to undermine and destroy the Bolivarian process.
Guaidó was the figure behind whom much of the opposition assembled—with extensive Canadian assistance, it should be noted. As Mike Blanchfield reported:
…emboldening Venezuela's opposition has been a labour of months, The Canadian Press has learned. Canadian diplomats in Caracas, with their Latin American counterparts, worked to get the country's opposition parties to coalesce behind the one person who emerged strong enough to stand against Maduro: 35-year-old Guaido… Canada anticipated [Guaidó's power grab] because its diplomats have been keeping in close contact with Guaido and other opposition figures in Venezuela.

The Canadian Press also noted that Canadian officials conducted anti-Maduro activities within and outside Venezuela with the assistance of some of the most right-wing governments in the region, including Sebastián Piñera's Chile, Iván Duque's Colombia, and Jair Bolsonaro's Brazil.
Guaidó represented, if nothing else, a decidedly more brazen power grab than in years past (excepting the short-lived 2002 military coup) and the means by which the opposition sought to garner more international recognition and support. Guaidó's parallel government, however, was never accepted by the majority of the world. Overall, it had little success in doing anything besides setting up embassies in friendly countries and seizing overseas assets from the Venezuelan government.
Now, the opposition-controlled National Assembly has removed Guaidó from the presidency of their "interim administration." In his place, they have elected a trio of lawmakers and created a commission to control the seized foreign assets, including Citgo, the petroleum company previously majority-owned by the Venezuelan government. This move was a long time coming. As a senior opposition figure noted last year, "There is an overwhelming conviction among the majority [of the opposition] that… the interim government is at odds with reality."
Following the dissolution of Guaidó's "presidency," Global Affairs Canada released a statement that reaffirmed Ottawa's support for the opposition. The statement reads, "Canada respects and recognizes the National Assembly's decision to extend its authority as it is the last remaining democratically elected institution in Venezuela, elected by the Venezuelan people in 2015. Canada also respects the decision taken to change the structure of the interim government."
The Guaidó charade is over, and like previous opposition attempts to dislodge the Bolivarian state, it was riddled with shortcomings that portended failure from the beginning—the same shortcomings that have prevented the opposition as a whole from constructing an acceptable alternative to the Bolivarian Revolution.
Nevertheless, Ottawa's support for Guaidó was vocal, unwavering, and rooted in a decades-long alliance with right-wing forces in Venezuela—as well as an even longer history of backing anti-left governments throughout the hemisphere as a whole.
For nearly a decade, the Venezuelan opposition has attempted to brand its efforts to overthrow the elected Maduro government as progressive, majoritarian, and nonviolent. With the help of US, Canadian, and European governments and media apparatuses, anti-Maduro forces have essentially monopolized the narrative on what is going on in Venezuela, what the "Venezuelan people" want, and how to repair the nation following a prolonged phase of social, economic, and political fracture.
"The way the protestors appropriated the symbols of the left was no accident," explains George Ciccariello-Maher, "but instead involved global networks of foundations and NGOs that have gradually coopted the tools of the left—strategic nonviolence, street protest, and social media—and fused these instead with a young, new Latin American right wing."
The opposition leaders who received the most support from the US and Canada were by and large the wealthiest, the most right-wing, and the least popular amongst the Chavista base. Some of their supporters also proved willing to use violence as a political tool. The 2014 guarimbas—opposition-led protests against Maduro's assumption of power through an electoral system described by former US President Jimmy Carter as the "best in the world"—left 43 people dead amongst Chavistas, opposition members, bystanders, and security officials.
During this time, anti-government protestors in opposition strongholds like the state of Táchira began arming themselves with mortars, firebombs, slingshots, clubs, and "miguelitos" (hoses punctured by nails). Some of these protestors threatened journalists and passersby and charged a toll to cross opposition barricades. While armed with a miguelito, one protestor in Táchira told the New York Times, "We're not peaceful here."
Some opposition supporters began stringing wires across streets to kill people riding motorcycles (motorcycle riders are frequently associated with Chavismo). A twenty-nine-year-old supermarket worker was decapitated by one of these wires, and a thirty-seven-year-old woman riding with her child was also killed. Ángel Vivas, the retired general who had called on protestors to "neutralize the criminal motorcycle hordes" by such means, resisted arrest by putting on a bulletproof vest, arming himself with an assault rifle, and publicly declaring that Cubans had taken over the Venezuelan government (he was arrested in April 2017 and released the following year).
Prominent anti-Maduro leaders in this period had little public support outside the established opposition. They included Leopoldo López, the wealthy former mayor of Chacao (described by the US State Department as "arrogant, vindictive, and power-hungry"), María Corina Machado (founder of the anti-Chávez Súmate group, which received funding from the Bush administration and Stephen Harper government), and former presidential candidate Henrique Capriles (who urged his supporters to "unload their fury" in the streets after Maduro's 2013 victory, resulting in at least eleven dead).
As Ciccariello-Maher writes, opposition leaders like López, Machado, and Capriles emerged from the wealthy Venezuelan upper classes and considered themselves part of "an inherited nobility limited to the handful of elite Spanish-descended families," a "cultural ethos… firmly grounded in hatred and criminalization of the poor." It is no wonder they have little to no appeal amongst the Chavista base.
Some of the most prominent student leaders in this period had received funding and support from non-governmental organizations that promote right-wing economic policies in the region. They included lawyer and student activist Yon Goicoechea, who in 2008 received the $500,000 "Milton Friedman Prize for Advancing Liberty" from the libertarian Cato Institute for his anti-government work in Venezuela. Having left the country in 2013, he returned in 2016 and allied himself with López's Popular Will party.
Other student leaders were implicated in plots to import weapons and commit acts of violence within Venezuela. Lorent Saleh, who received the Sakharov Prize from the European Parliament in 2017, travelled to Colombia during the 2014 unrest, where he visited a military base and spoke with notorious far-right former President Álvaro Uribe. In a leaked Skype video, Saleh revealed plans to import weapons and explosives from Colombia "under a diplomatic 'façade' provided by a human rights group," bring anti-Maduro protestors to Bogotá for weapons training, "blow up" buildings, and storm government offices.
Meanwhile, the Canadian embassy in Caracas began to involve itself more deeply with anti-government forces. Ben Rowswell, who served as Canada's ambassador from 2014 to 2017, said that Canada "established quite a significant internet presence inside Venezuela, so that we could then engage tens of thousands of Venezuelan citizens in a conversation on human rights… We became one of the most vocal embassies in speaking out on human rights issues and encouraging Venezuelans to speak out."
Rowswell's appointment as ambassador signalled that Canada would take a more hands-on role in Venezuelan affairs in the coming years, including through work with anti-government NGOs and opposition figures. As Gerard di Trolio noted at the time of his appointment:
Rowswell has served as Canada's official diplomatic representative in a number of conspicuous places across the Middle East. From Kandahar, Afghanistan to Kabul and Iraq immediately after the fall of Saddam Hussein, Rowswell has become an expert at representing Canada's interests in the heat of conflict…While overseeing the "democratic transitions" of Afghanistan, Iraq, and Egypt, the fledgling attaché specialized in the harnessing of social media for diplomatic missions, in order to interact directly with non-state actors, in effect bypassing the target nation's government.

Rowswell left his post in 2017. After his departure, he stated that Canada would continue to influence Venezuelan politics because "[Chrystia] Freeland has Venezuela way at the top of her priority list."
2017 was a year in which violence became even more prevalent at anti-government marches, the most famous example being the burning alive of Orlando Figuera. Figuera, who was allegedly accused of being a Chavista before opposition supporters doused him with gasoline and set him on fire, suffered wounds over 80 percent of his body and died after two weeks in intensive care.
While the circumstances of Figuera's murder have been disputed, with some claiming that it was not a political killing, Figuera's father asserted that his son was in fact murdered for his political beliefs. After seeing his son in the hospital, he recounted: "He said to me… when I was coming through Altamira, a group of opposition supporters appeared and they asked: Hey black guy, are you Chavista or opposition? They told him, 'You can see what happens to Chavistas.' They began to punch him, stab him and they burned him alive."
Under Freeland's watch, the Trudeau government rejected Maduro's victory in the 2018 election and helped form the now-disempowered Lima Group in its efforts to overthrow the Bolivarian government. When Guaidó declared himself president in 2019, Ottawa was one of the first countries to recognize him as Venezuela's new leader.
"[Guaidó] has emerged as a candidate that could unify all of the factions of the opposition," Rowswell said at the time. He claimed that "Guaido, with his charisma, has been able to bring together these various groups." The former ambassador then stated that he hoped a military coup would oust Maduro in the near future: "The hope is that the armed forces of Venezuela, which have throughout the history of Venezuela shown a remarkable knack for self-preservation, will see which way the wind is shifting."
Meanwhile, Canada supported (and continues to support) a US-led sanctions regime that has killed tens of thousands of Venezuelans, reduced government revenue to one percent of its pre-sanctions total, and in the words of UN Special Rapporteur Alena Douhan, had "a devastating effect… on the broad scope of human rights, especially the right to food, right to health, right to life, right to education and right to development."
In 2022, a year of increasing normalization between the Maduro government and the region, Ottawa continued to fund Venezuelan opposition groups and release condemnatory statements against the Bolivarian state.
Following the ninth Summit of the Americas in California, which was widely criticized in the hemisphere for the exclusion of Cuba, Nicaragua, and Venezuela, the Trudeau government allocated almost $900,000 in funding for the Venezuelan opposition, specifically programs to "strengthen the leadership capacities of Venezuelan women from the political opposition" and "build the leadership capacities of Venezuelan women from the Venezuelan interim government and the opposition-led National Assembly."
In October 2022, The Maple obtained a briefing note that revealed Canadian government funding has propped up a group called "Women for Democracy in Venezuela," cofounded by long-time Leopoldo López ally and "acting foreign affairs minister" Isadora Zubillaga. As Alex Cosh and José Luis Granados Ceja explain: "The document notes that [WDV] was created through a project funded by Global Affairs Canada's (GAC) 'Peace and Stabilization Operations Program,' which was established in 2016 to 'take concrete action to prevent and respond to emerging and ongoing situations of violent conflict and state fragility.'"
Venezuelan human rights activist Ana Barrios informed The Maple:
This initiative, made up of and led by women belonging to the upper classes of Venezuela and linked to the political castes of the Venezuelan oligarchy, without its own agenda, has little to say to the Venezuelan women of the popular sectors who fight everyday against the effects of the sanctions that the aforementioned women promoted, and with whom they have nothing in common and in no way feel moved or represented by them.

Shortly after announcing funding for these opposition-led groups, the Trudeau government signed a Media Freedom Coalition statement to "express their deep concern over the lack of media freedom in Venezuela" and condemn "the repressive measures employed by the Maduro regime." Only twenty-four governments signed the declaration, all of them US allies.
While ignoring violent acts committed by the Venezuelan opposition since 2014, the Canadian government increased its support for anti-Maduro forces, including by helping organize the right-wing behind "president" Juan Guaidó. Even with the demonstrable failure of these efforts, the Trudeau government continued to provide funds to the opposition and meet with "interim government" officials in 2022, reflecting how out of step the Canadian government remains with the rest of the hemisphere.
Although the absurdity of the Guaidó era is drawing to a close, one can be certain that Ottawa will seek new ways to promote the opposition in the upcoming presidential elections in 2024, which will surely see the Venezuelan right adopt new tactics in their unceasing quest to overturn the Bolivarian Revolution.
Owen Schalk is a writer based in Winnipeg. He is primarily interested in applying theories of imperialism, neocolonialism, and underdevelopment to global capitalism and Canada's role therein. Visit his website at www.owenschalk.com.