Governments are to blame for the Winnipeg landfill blockade
The issue here is not a lack of resources but the devaluing of the lives of Indigenous peoples, writes James Wilt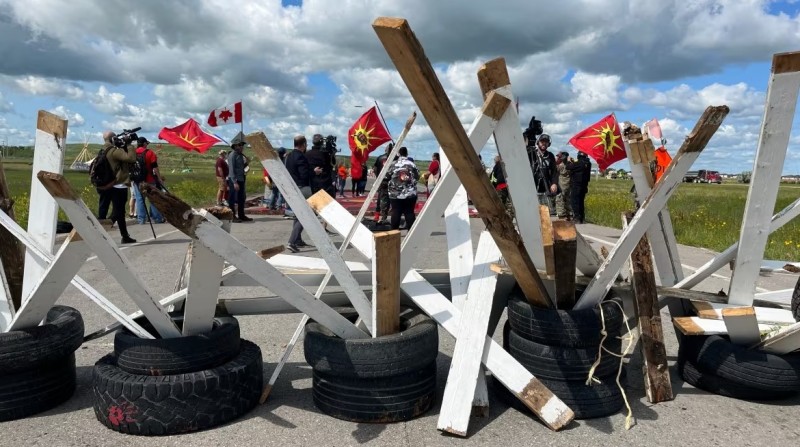 The City of Winnipeg is poised to secure an injunction enabling police to remove the families and loved ones of missing and murdered Indigenous women, girls, and Two-Spirit people (MMIWG2S) from their ongoing blockade of the main entrance to the city's Brady Road landfill (contra the city's initial claims, the side entrance to the landfill remains open, allowing the continued dumping of waste). The blockade was erected last Thursday following Premier Heather Stefanson's announcement that the province wouldn't fund a search of Prairie Green landfill, where the remains of Morgan Harris and Marcedes Myran—alleged to have been murdered and dumped by white supremacist serial killer Jeremy Skibicki—are presumed to be located. More bodies are likely scattered in Brady, where the remains of Rebecca Contois were previously discovered. Skibicki has been charged with first-degree murder in connection to her death.
The escalation to an injunction follows the city's failed attempt to evict the blockade by issuing a municipal order that claimed it was causing health and safety risks to Winnipeg residents. The city's injunction affidavit similarly claimed that continued blockading could "within a matter of days delay or halt residential collection, lead to City-wide illegal dumping, pest control issues, civil unrest, and other health and safety issues."
Reduced access to the city's landfill is not ideal for anyone, nor is having to maintain a steady presence at Camp Morgan Harris since late last year. But this is not the fault of the courageous and dedicated blockade organizers, including many direct relatives of MMIWG2S who were dumped in city landfills. Rather, as blockade organizers have consistently made clear, responsibility for the situation lies with the municipal, provincial, and federal governments that have refused to fund searches of the Prairie Green and Brady Road landfills. This neglect has been worsened by Premier Stefanson's disregard of the recently released feasibility study of a Prairie Green landfill search, leaving the families no other choice than to take direct action in the form of the blockade.
Despite Stefanson's claims to oppose a search of Prairie Green on the basis of the health and safety of workers—an issue meticulously addressed in the feasibility study—this situation boils down to the question of money. The costs for a search are indeed sizable: between $84 and $184 million for Prairie Green, and likely much more for Brady Road. Blockades also reportedly cost the city $1.5 million between mid-December and early January. Yet, when we look at the bigger picture, these are miniscule figures. Just last week, as part of its "tough on crime for some" strategy, the Manitoba PCs shelled out another $10 million for the Winnipeg Police to station 24 additional officers in the city's core. Earlier, in January, as a blatant vote-buying strategy, the government sent out $200 million worth of cheques as a "carbon tax relief fund," despite most people already receiving rebates from the federal government.
Numerous other examples abound of major spending decisions that have been met with relatively little scrutiny. Consider the $330 million spent by the Winnipeg Police in 2023 alone, or the $1 billion to expand Kenaston Boulevard and Chief Peguis Trail, or the more than $8 billion the federal government has spent to aid Ukraine since Russia's invasion last year. This is to say nothing of Canada's epidemic of corporate graft which has seen the biggest five oil and gas companies expropriate a combined $38 billion in 2022, while grocery giants raked in billions more.
The issue here is not a lack of resources but the devaluing of the lives of Indigenous peoples. If governments didn't want their vital infrastructure blockaded, they should have initiated landfill searches when they first learned about bodies being dumped there and taken immediate steps to protect many other Indigenous women from predation with massive funding of public housing, food distribution, income supports, harm reduction, and other life-sustaining services. State managers consciously chose not to do these things and are now facing the consequences of their actions
Even this is understating the scope of the situation. The entire capitalist economy of Canada is premised on the ongoing dispossession of Indigenous peoples from their territories. As the late Arthur Manuel wrote in The Reconciliation Manifesto: "Indigenous peoples basically subsidize the Canadian economy with free land" and that "when you start adding in compensation for stolen resources, estimates of Canada's debt to Indigenous peoples quickly surpasses $2 trillion and continues to rise." The notion that $184 million is somehow totally beyond the range of what is possible for the capitalist state to commit to in order to help bring the families of MMIWG2S some closure and justice systematically denies the very nature of the settler-colonial project and makes further mockery of claims to be pursuing any kind of "reconciliation" with Indigenous peoples.
As blockade organizers have been voicing since day one, the answer to this situation is abundantly clear: fund the searches of the landfills. It is a wholly achievable demand that should be materially supported with our actions and resources, including physically showing up to the blockade to help prevent police violence against Indigenous peoples. This rapidly intensifying conflict can only be resolved by reversing course, calling off the injunction and police, and committing to fully fund the landfill searches as an initial step towards justice for the families, their loved ones, and communities of MMIWG2S. Failing to do this will mean that any ensuing impasse falls at the feet of Mayor Scott Gillingham, Premier Stefanson, and Prime Minister Justin Trudeau.
James Wilt is a Winnipeg-based writer and member of the organization Winnipeg Police Cause Harm.