Conservative Prostitution Bill: Two Steps Back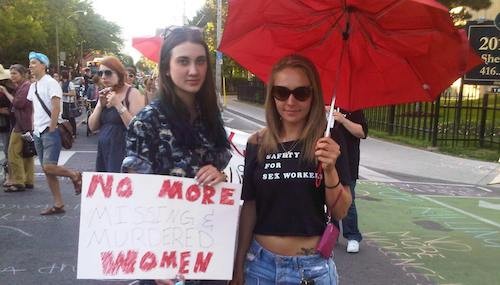 Last year, Canada's Supreme Court made a landmark decision for sex workers. A major step towards occupational health and safety, the decision was lauded by advocacy organizations across North America, and hailed as a progressive move forward. Now, Peter MacKay, the Minister of Justice, has proposed legislation that would take labour rights in Canada two major steps back. Why? Because those workers are sex workers.
The landmark ruling in December 2013 was the Bedford ruling, which determined that sections of Canada's Criminal Code pertaining to prostitution are unconstitutional. The Supreme Court unanimously decided that in one year's time, the parts of the law that undermine the health, safety, and rights of sex workers will no longer be in effect. In response, the federal government introduced Bill C-36 this summer. Loosely based on an interpretation of the "Nordic Model" whereby johns, or clients, of sex workers are criminalized, Bill C-36 would render the advancements of the Bedford ruling almost entirely null.
In Vancouver, many advocacy organizations which worked tirelessly to support the Bedford ruling have raised serious concerns about the proposed bill. Andrew Sorfleet, the president of Triple-X Workers' Solidarity Association of BC, Canada's first legally registered sex worker labour association, describes the bill as a motion to threaten "150 years of legitimate industry—industry with workers and with an economy. From an economic standpoint, [MacKay's] about to put a whole lot of workers out of work." Sorfleet, who describes the Triple-X Workers' Solidarity Association as built on the same model as ACTRA, the Canadian actors' union, wants the federal government to allow time for a discussion within the sex industry of the consequences of Bill C-36: "If you're going to take away my ability to work, I want to know what my compensation will be. The sex industry needs some time to know what this is going to mean."
For many, the effects of the proposed bill are already frighteningly clear. One advocate, who wished to remain anonymous, describes Bill C-36 as a mechanism that will create high-pressure situations where both worker and client are trying to avoid arrest, and where workers will not have time to properly assess situations and take appropriate safety measures. In addition, the bill's new motion to criminalize accessing material benefits from sex work (a contemporary reworking of the pre-Bedford "living off the avails" law) means that sex workers will no longer be able to hire "third parties," or security staff, to ensure their safety on the job.
The effects on women workers in the sex industry will be especially dire, as the anonymous advocate observes: "We need laws that allow us to work towards creating a culture that does not accept violence against women – regardless of their work or perceived place in society – and laws that do not take away or limit the agency of working women." It is clear from the proposed bill that Peter MacKay and his supporters are proponents of an outdated, patriarchal view of sex work: one where all sex workers are "prostituted" female victims in need of rescue from immorality, trafficking, and their fundamentally predatory male clients. (It is also worth noting that the proposed legislation, and the debates surrounding it, are distinctly heterosexist, framing all sex workers as victimized women who need to be protected from their male clients.)
In response to the potential ruling, PIVOT Legal Society, an organization committed to decriminalizing sex work and based in Vancouver's Downtown East Side, released an information resource entitled "Reckless Endangerment – Q&A On Bill C-36: Protection of Communities and Exploited Persons Act." Katrina Pacey, Litigation Director at PIVOT, says that public response to their primer on the dangers of Bill C-36 has been positive. "[The] proposed legislation is both complex and confusing," she says, noting that the government has not explained the full extent to which Bill C-36 will truly criminalize sex workers, clients, and third parties.
PIVOT's primer outlines a litany of details that remain unclear in the proposed bill: whether or not the internet will be considered a "public place" where communication for obtaining sexual services will be illegal, and what constitutes a "legitimate relationship" with a sex worker. In a particularly draconian clause of the bill, those deemed to be "habitually in the company" of sex workers are also criminalized. Thanks to PIVOT's primer, a host of community members fearing for their children, partners and roommates can learn that they are indeed part of a "legitimate relationship." No such luck for safe, longstanding clients of sex workers: those "illegitimate" relationships will arguably be deterred by the new potential for arrest.
Like many others, Pacey believes Bill C-36 is a direct response to the Bedford ruling. "Until that decision came down, the Harper government demonstrated very little interest in the issue of prostitution. Bill C-36 will recreate the harmful, stigmatized and dangerous conditions that sex workers had to endure under the laws that were struck down in the Bedford case. It is an unconstitutional variation of our broken laws that imposes more danger, more criminalization and fewer safe options." Pacey echoes the concerns of many sex workers, activists and advocates in observing that the new laws will be especially debilitating for street-based sex workers. Indoor sex work will be made "nearly impossible," she says, forcing street-based sex workers into isolated and dangerous parts of the city.
Sorfleet, who has worked in the sex industry for more than a decade, says one of the major issues at play is that there exists no form of true representation for sex workers. "I can't believe [this] wouldn't be struck down right away. It's a free speech issue." On the bill's supposed goal to "protect" sex workers and criminalize harmful clients, Sorfleet states simply, "You can't make half a thing illegal."
In the face of this ultimately flawed goal, sex worker support organizations across the country including WISH, Stella and Maggie's have unanimously decried the proposed bill as one that will create increased risk for sex workers across the country. In short, consensus from those who work in the industry is that Bill C-36 will kill workers, especially those facing multiple barriers: Indigenous women, women of colour, and trans women. It remains to be seen if, in a bizarre case of déjà vu, Bill C-36 will be challenged in the Supreme Court. And despite the evidence that no sex workers or allied organizations were consulted in the drafting of the bill, with so many outspoken and concerned activists it's clear that Peter MacKay and his supporters are simply not listening—to workers, women and their communities.
Leah Horlick is a writer and poet living on unceded Coast Salish Territories in Vancouver, where she coorganizes REVERB: A Queer Reading Series.
This article appeared in the September/October 2014 issue of Canadian Dimension .